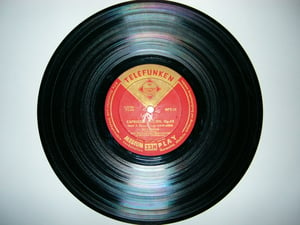 €

7.00
Choose your item(s) between all these Prototype Records' 10"s vinyls.
CAUTION: some items don't cost 7€ but less or more. Also 7€ is not the price of the whole items of course...
---
◊ RELEASES ◊
---
░ EVERY REASON TO... / THE DAWN "S/T" Split 10"+CD /// 10€
Without CD /// 8€
Pressing Infos: 300 copies all on opaque white 10". Some have black shades.
300x Pro Black CD-Rs printed. With enhanced bonus material (one video clip of each band)
---
░ STUNTMAN / CHERE CATASTROPHE "S/T" Split 10" /// 7€
Pressing Infos: 500x 10"s : 300 standard black copies + 200 transparent dark green vinyls.
All records have lyrics insert + a sheet of paper with an URL link where to get the record on high quality MP3.
5 test pressings hand-numbered.
Note: 2 copies on green vinyls has the sleeve artwork mixed with an other.
GREEN VINYLS ARE OUT OF STOCK.
---
LISTEN ALL OUR RELEASES HERE
-----------------------------------------------------------
◊◊ DISTRO ◊◊
° BRUME RETINA / HIRO "S/T" Split 10" (Rejuvenation & more) /// 6€
° DURE MERE / HEADWAR "DURE-WAR" Split 10" (Label Brique) /// 6€
° ENVY / ISCARIOTE "Our dreams walking their way - Chapter One" Split 10" very rare (Pure Pain Sugar & more) /// 30€
° GOUDRON "S/T" 10" first press (Aïnu & more) /// 7€
° GRAND PREDATEUR "S/T" 10" (Emergence & more) /// 7€
° ONE SECOND RIOT / SOFY MAJOR "S/T" Split 10" (Self-released) /// 6€
° PAVE "S/T" 10" (Emergence & more) /// 6€
° PLEBEIAN GRANDSTAND / CORTEZ "S/T" Split 10" opaque white (Get A Life! & more) /// 8€
° THE AUSTRASIAN GOAT / NEIGE MORTE "S/T" Split 10" opaque white (Music Fear Satan) /// 8€